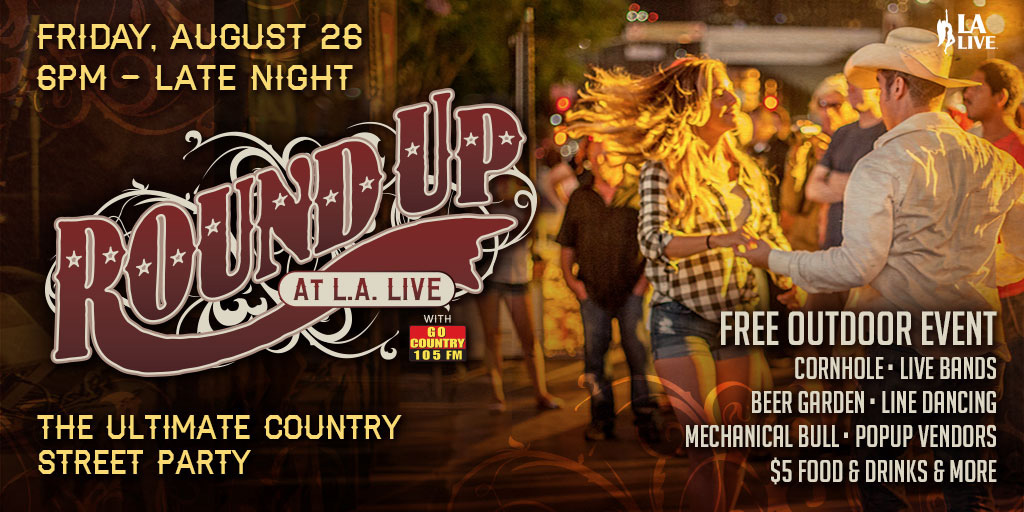 For the second year, Lewis Events was asked to bring entertainment to LA Live for "Round Up at LA Live".  This year we brought in trick roping and a western style magician.  Always tons of people, a myriad of activities, bright downtown lights, fantastic food and endless energy.  An honor to be part of this spectacular event!
Here's the press release from LA Live:
LOS ANGELES (August 3, 2016) L.A. LIVE and Go Country will team up for the second year to host 'Round Up,' the ultimate country-themed block party, at L.A. LIVE on Friday, August 26 from 6 p.m. to 11 p.m. Free and open to the public, L.A. LIVE will bring the country to the city of Los Angeles for the perfect summer night out. Activities will include mechanical bull rides, live musical performances, line dancing, country-themed shopping vendors, street performers, rodeo ropers, games, live muralists and more.
Country music performances at the Round Up Getdown Stage will feature Redneck Rodeo, Honey Country, Daniel Bonte, Stephen Wesley in addition to line dancing instruction by Kristal Lynn Konzen and performances by the LA Wranglers, Rodeo Crew and award-winning trick roper, Cowgirl Christy Lewis. DJ Greggory Place with Gone Country Promotions will spin country hits all night long. Vendors to include Shay Candles, Soap Seas, Hollywood & Twine, Goat and Kettle, Succulent Heaven and more, in addition to western-themed street art created live on site by muralists, James Wilde XO, PhobikGod and MDMN.