World Class Western Talent
Christy Lewis — Trick Roping – Whip Cracking – Line and Square Dancing – Cowgirl – Professional Coaching for Film and Stage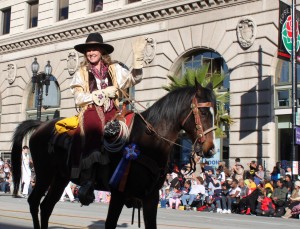 Christy is a third generation western performer and five time international trick roping record holder.  Her performing talents have taken her throughout the US for corporate events, festivals, television roles, 2002 Olympics, Rose Parade, and many other venues.  As a professional coach and trainer in the western arts, she has taught skills to a variety of performers.  Contact Trickroper.org or to arrange for a trick roping crash course or for a more gradual lesson series and in no time, you'll be ready for that career-changing role.
                                       Jay Lewis — Gun Spinning – Whip Cracking – Cowboy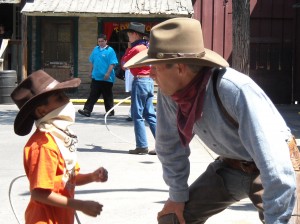 Jay is the all around cowboy.  He has spun his six shooters and cracked his bullwhip at many corporate events, festivals and television productions.
Melinda — Trick Roping – Cowgirl – DJ – Line Dance Instructor
Melinda has performed her rope spinning since she could walk, for a variety of audiences including Calico Ghost Town, Tournament of Roses, Knott's Berry Farm, Autry Museum and at and numerous corporate functions.
James — Trick Roping – Whip Cracking – Cowboy- DJ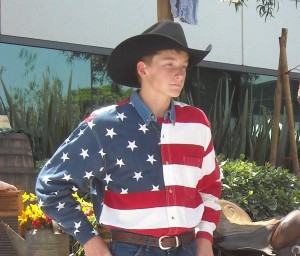 James is great with a bullwhip and a trick rope.  He can cut a newspaper to shreds with a bullwhip.  A great country/western DJ in English and in Spanish.
Brett — Trick Roping – Whip Cracking – Cowboy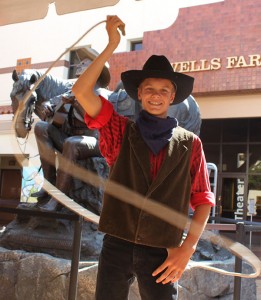 Brett is an amazing Trick Roper.  He can do a variety of difficult tricks that many adults ropers are still trying to master.  At Calico Ghost Town,  he once spun his wedding ring rope trick the entire length of the parade.
Cowgirls–Atmosphere Talent-Trick Riding-Trick Roping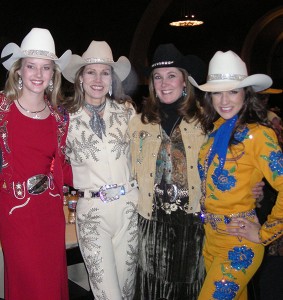 The prettiest, nicest and most charming cowgirls ever to set foot in the West.  They ride, spin ropes, perform amazing stunts and bring a smile to even the roughest cowhand!

Cowboys-Atmosphere Talent-Stunt Shows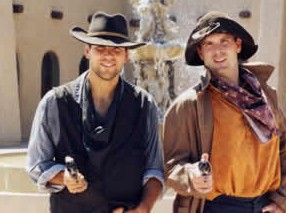 Fresh out of the saddle, these rough and tumble cowboys can tame a restless bronc, handle a six-shooter, crack the whip, pull off great stunts and chase the bad guys out of town . . . all before lunch.